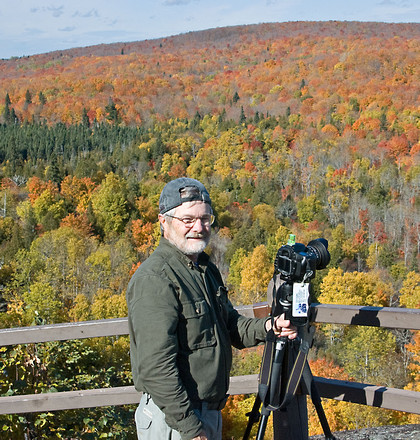 I've always enjoyed taking picture even as a kid. My dad let me use his old Brownie camera to take pictures. Much to his chagrin I used most of the film to shoot mud puddles, turtles and frogs since I spent most of my childhood at the local creek hunting turtles, frogs and fishing. I attended graduate school in Denver and then went on to my first job in Tacoma, Washington. During the 60's I spent most of my time hiking and mountain climbing and always had a camera with me. When we had a photo session after a climb everyone used to laugh because they could always tell my photos because they usually had a rock or tree in the foreground. In the late 60's I moved back to Wisconsin and my interest changed to international travel. During the 70's I traveled through South America, Africa, Asia and Europe again with my camera in hand. In the early 80's I took a number of photography courses and promptly lost interest in photography. I put my camera away and didn't take it out until the 90's when my son was old enough to take hiking. With my interest in hiking rekindled the camera came back out.


As I got a little older and couldn't hike 20 miles a day anymore I spent more time taking pictures than hiking. My wife used to complain that I hiked too fast and too far, now she complains I'm too slow and spend too much time taking pictures.

Several years ago, when I retired after 38 years as librarian at UW-Stout, I started to shift from "taking pictures" to more serious photography. I made the switch to a digital camera and started reading photography books.

Unfortunately I have a limited attention span and tend to overdo something until I burn out. I've been able to keep my interest in photography going by purchasing something new every year. The first year was the digital camera. Year two it was a Tamron 200-500mm lens so I could do more bird photography. This year it was a macro lens so I could be a little more creative with flower photos. Haven't decided what I will try next year but whatever it is it will allow me to try something different. It also helps that no matter how many times I walk down the same trail something different always gets my attention.

I don't have a particular specialty in photography. To borrow a phrase from gardening I tend to shoot what is in season. In the winter its snow, ice and birds, in the spring flowers, in the summer flowers, birds and butterflies and in the fall leaves.
© Philip Schwarz Photography